Can you think of technological breakthroughs that had huge impacts on the world of sports? From the images that capture sports and athletes on film to the clothing athletes wear, this book covers the 12 technological advancements that had the biggest impacts on sports and athletes.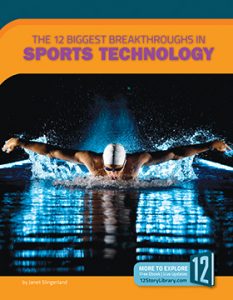 The 12 Biggest Breakthroughs in Sports Technology
ABDO BookLinks has a page for Sports Science and Technology in the Real World. It provides some web site links related to the book.
History.com has info and videos on Winter Olympics Technology.
Sports scientists are doing some interesting research at Biosport, the Sports Biomechanics Lab at UC Davis. Things they are studying include luge and bobsled safety, balance and control on a bicycle, equine (horse) biomechanics, and more. There are videos and explanations for a lot of these topics. Check it out.
The Sports Science Lab at Washington State University specializes in baseball bats and balls. If you're interested in baseball and/or physics, check it out.
"A strong body makes the mind strong."
~ Thomas Jefferson ~