Welcome to my web site. I'm Janet Slingerland. I write books for children. My favorite subjects are science and history, and I LOVE it when the two combine. I confess, though, I have yet to find a subject I didn't find fascinating once I started researching it.
If you've been to my website before, you'll notice it looks a bit different now. I'm in the process of completely revamping this site. Please be patient as I continue working on making it better. I hope to have some new features coming soon!
My Books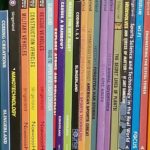 I've written quite a few books and keep writing more. Check out the MyBooks page to see the books that have been published or to find more information and resources related to them.
Blog
I now have a Blog! Here, I share ideas and activities, many from years as a Girl Scout and Cub Scout leader.
Author Visits
I love talking about science, history, and writing.

Check out the Author Visits page for more information.