My youngest son LOVED trucks. Construction trucks, fire trucks, tanks, amphibious vehicles – you name it, he loved it. I spent hours with him reading books and watching videos about trucks. If we were really lucky, we got to see trucks in person. Trash day, when the garbage truck came down the street, was always a special day.
When I got the chance to write a few books about vehicles, I couldn't pass it up. The tough part was deciding which vehicles to include in the books – there just wasn't room for them all. There are so many interesting working vehicles out there, it was a difficult task.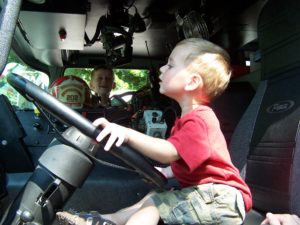 These books target readers in grades 1-3. They are written at a 3rd grade reading level, so younger readers may need some help. They each have a STEM and a career tie-in.
Construction Vehicles
"This non-fiction, educational chapter book will be a hit for those kids who love mighty machines. It documents a variety of vehicles that you would find on a construction site such as: bulldozer, concrete mixer, dump truck, executor, flatbed truck, forklift, and front end loader just to name a few. Key words are printed in bold text and are defined in the glossary at the back of the book. Also included is an index and places you can visit for extra information about these incredible machines. The photos are crisp, colourful and animate the text. Kids are always mesmerized by any form of these monster vehicles and will be fascinated to learn how what they contribute on a construction site. They will love to learn how they must work together to get a huge project competed. I highly recommend this book. 5 out of 5 stars"
— September, 2018. NetGalley
Military Vehicles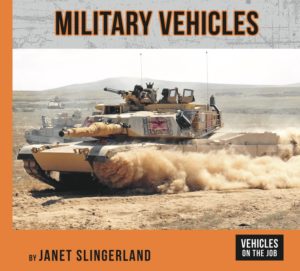 Rescue Vehicles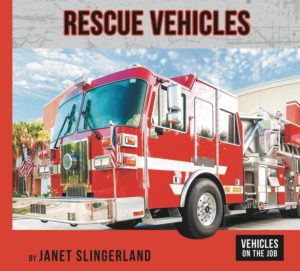 "Wonderful photographs showing various rescue vehicles. The text was easy to understand for my young charges as I read this to them. They wanted to spend a lot of time looking at the photos as I read basic facts about the vehicles and why there are different ones. The kids are all 4 and knew about different rescue vehicles and were very interested in this book. I liked the glossary at the back to go over with the kids. A great book to use in a primary classroom when teaching about community helpers and transportation. A great addition to a school or class library. The publisher, Norwood House Press, generously provided me with a copy of this book to read. The rating, opinions and ideas are my own. 4 out of 5 stars."
– Carla Johnson-Hicks (Educator). NetGalley, September, 2018
Related Web Sites and Activities:
Kids have a lot of fun painting with toy car and truck tires. I did this with my Cub Scout den when they were in 2nd grade, and it was a huge hit. Here's an example of rainbow tire truck painting. This combines topics of two of my books, so how can I not love it? http://www.dolendiaries.com/2014/03/tire-track-rainbows.html
Artists Helping Children always has great ideas on their website. Here's a list of crafts involving trucks: https://www.artistshelpingchildren.org/trucks-craftsideasactivitieskids.html.
Here's a great idea for giving kids a STEM challenge – build a bridge that can hold a toy truck. http://preschoolpowolpackets.blogspot.com/2016/11/construction-truck-stem-building-beams.html
Here's a cute idea for using letter rocks and dump trucks to practice spelling words. https://theimaginationtree.com/alphabet-rocks-construction-site-literacy-activity
There is a museum devoted to tanks called, you guessed it, The Tank Museum. It's located in England, but you can view some interesting things on their website – https://www.tankmuseum.org. They even have a YouTube channel.
The U.S. Army has a web page where you can learn about the different vehicles they use and jobs related to them. https://www.goarmy.com/about/army-vehicles-and-equipment/tanks-and-fighting-vehicles.html
Enchanted Learning has loads of activities involving fire trucks. https://www.enchantedlearning.com/crafts/fire
Here's a free fire safety activity featuring a fire truck from Teachers Pay Teachers. https://www.teacherspayteachers.com/Product/Fire-Safety-Freebie-One-Page-Fire-Truck-Craftivity-3425156
For true firefighting enthusiasts, the City of Chicago has a glossary of terms used by the Chicago Fire Department online. https://www.cityofchicago.org/city/en/depts/cfd/supp_info/cfd_definitions.html
Videos:
This video from Lockheed Martin shows what a robot designed to carry supplies can do. It includes some information about how they test this vehicle. https://youtu.be/75lKJN-D4xs
This video gives a little taste of what an AAV can do. (My son would've loved this video when he was younger.) https://youtu.be/G7_z9yDzWVs
The road to success is always under construction.
~ Lily Tomlin