Road to Upper and Lower Canada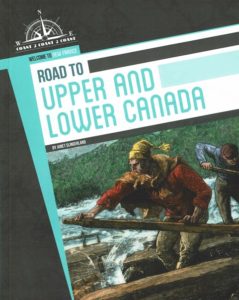 Grades 5-7… This book was written for the Canadian educational market. I learned a lot about American history by researching Canadian history. Below are some web sites I found particularly interesting on both American and Canadian sides of the story.
Related Web Sites and Activities
Did you know that the first people to settle in Illinois were French? The Illinois State Museum has an At Home on the Heartland site where you can explore the history of Illinois, starting with those first French settlers.
The Library of Congress has a France in America site that has lots of documents, images, and stories that tell the history of the French in America from the 16th through the 19th centuries.
The U.S. Office of the Historian had a web site called Milestones. Sadly, it is no longer maintained, but you can still see what was posted before the web site was retired. The time period 1750-1775 included the French and Indian War/Seven Years' War.
The McCord Museum has tons of artifacts you search through and look at online. These items help tell the story of the history of Canada.
Mackinac State Historic Parks is a collection of historic sites in Michigan – there are lots of sites to visit here. There are things you can explore online, but I think the most fun would be going there.
You have to know the past to understand the present.
~ Carl Sagan ~