I realize I have not been very good at blogging on this page. However, I'll be getting a lot more experience blogging and expect to improve. I recently joined the STEMTuesday team over on From The Mixed-Up Files. We even have an awesome card, showing all us geeky STEM people: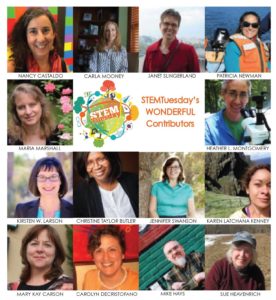 I will be posting every few months, sharing ideas for using STEM books in the classroom. My first post went live today. It provides a little info about 3 awesome archaeology books, along with some activities to pair with them. Hopefully you'll hop on over there and check it out.
My next post there won't be for a few months. Between now and then, I'll try to share a few more things here.
In the meantime, I am also contributing a signed book to the awards for STEMTuesday's 2nd annual CoSTEM contest. Basically, school-aged students are challenged with dressing up as their favorite STEM book. Check out the rules and details over at STEMTuesday. I hope you'll join in the fun. Good luck!