Back in December, STEM Tuesday highlighted bird-related books with the theme "A Partridge in a Pear Tree and Other Birds This Holiday Season." I shared a post – https://fromthemixedupfiles.com/2019/12/stem-tuesday-a-partridge-in-a-pear-tree-and-other-birds-this-holiday-season-in-the-classroom – that suggested some activities that would pair well with the month's books.
One of the suggested activities was a bird journal. While I provided a link to one such journal in my blog post, I wanted to share with you a journal that I put together for my Cub Scout den back when I was a den leader. This version was geared for readers younger than the STEM Tuesday blog post; the Cub Scouts were in 2nd grade at the time we did this activity.
My version of a bird journal – BirdJournal – is a combination of a bird guide and a journal. I gave my the scouts a few common New Jersey birds to look for, including the state bird, the American Goldfinch. For each bird, I listed what kind of food and nesting material the birds look for, info about their nesting habits, and a cool fact or two. I gave the scouts room to draw or place a photo of the birds listed in the beginning of the booklet. The last half of the booklet are journal entry pages, where they could log information about birds they saw.
Print it double-sided, with the pages flipping on the short edge, then fold in half to make a booklet. The cover will read My Bird Journal. The first page spread will be American Goldfinch on the left and Cardinal on the right.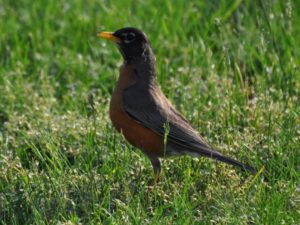 If you want to print out photos to paste in the booklet, here's one of an American Robin, taken in my yard.
For the other birds, you can find great photos on the Cornell University Lab of Ornithology's website All About Birds – especially their Bird Guide. This website has lots of great info about birds and how to identify them.
There are links to some additional bird-related books and learning resources below.
May you find all the birds you are looking for!
More Books About Birds
The Nest That Wren Built, a picture book by Randi Sonenshine, illustrated by Anne Hunter.
Author Randi Sonenshine has related activities on her website: http://www.randisonenshine.com/extras-1.html
An Egg Is Quiet, a picture book written by Dianna Hutts Aston, illustrated by Sylvia Long.
There is a great teacher's guide that includes this book, provided on the Chronicle Books website: https://cdn.shopify.com/s/files/1/0261/7291/5805/files/dha_teacherguide.pdf?3389
The Boy Who Drew Birds: A Story of John James Audubon, picture book by Jacqueline Davies, illustrated by Melissa Sweet.
Teacher's Guide activities available from publisher Houghton Mifflin Harcourt: http://www.houghtonmifflinbooks.com/readers_guides/davies_drew.shtml
Additional Activities
Enchanted Learning has a bunch of bird-related activities: https://enchantedlearning.com/subjects/birds/printouts.
Science Learning Hub has this great article on how birds fly: https://www.sciencelearn.org.nz/resources/303-how-birds-fly. They have lots of other articles and activities related to birds here: https://www.sciencelearn.org.nz/topics/birds
Read about birds at National Geographic: https://www.nationalgeographic.com/animals/birds
These tips on how to identify birds in the UK apply pretty much everywhere: https://www.rspb.org.uk/birds-and-wildlife/wildlife-guides/birdwatching/how-to-identify-birds