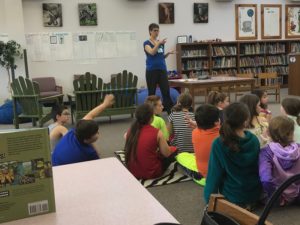 Yes! I do author visits. Contact me if you're interested in having me visit you to talk about STEM, history, and/or writing.
Programs
Below is a list of programs I've done. All are tailored to the age group and can be adjusted for time requirements. If you don't see what you're looking for, let me know. I love coming up with fun ways to approach new topics.
The Nonfiction Challenge
(45-60-minute assembly-style, recommended for grades 1-8)
This program highlights why I love writing nonfiction. I'm always finding interesting tidbits and amazing facts, many of which don't make it into my books. Topics will cover several of my books, based on the ages of the attendees. Each topic includes an interactive game-show-style activity.
Atoms and Molecules and Alchemy
(30-45 minutes, recommended for grades 1-5)
This interactive program takes a look at atoms, molecules, and elements, and explores the history behind the discovery of phosphorous.
Life of an Author
(30-45 minutes for grades K-12)
What is a career in writing like? What do authors look like when they're working? Content is tailored to age group. Topics may include life skills authors use (like public speaking and organization) and the joys and challenges of an author's life.
The Idea Factory
(30-45 minutes for grades 3-12)
Learn and practice techniques writers use to come up with new writing ideas
How to Write a Picture Book
(30-45 minutes for grades 5-12)
Explore what makes a book a picture book and how to write one of your own
The Writing Process
(45-60 minutes for grades 5-12, no more than 50 students)
This program looks at the writing process from a nonfiction perspective. Together, we explore how the audience drives topic choice and style of writing.
 Tell me and I forget, teach me and I may remember, involve me and I learn.
~ Benjamin Franklin ~